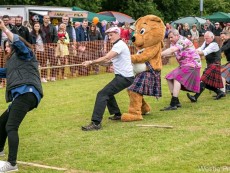 Open Tournament

Teams of six with a coach pull against each other. The rope is marked 6 feet on either side of the centre. When the Judge commands "take the strain" and the rope is taut, he marks the middle of the rope by placing a stick in the ground. The contest is decided when one or other of the markers on the rope passes the marker on the ground.

— Teams of 6
— Categories: Under 10's / Aged 10 – 15 / Adult Male / Adult Female / Adult Mixed

Emphasis is heavily directed towards fun!